Press releases wield significant influence in a business landscape marked by rapid changes and trends, enabling brands to distinguish themselves in a saturated market, captivate target consumers, and cultivate loyalty among existing customers. Surveys indicate that a staggering 68% of businesses credit well-executed PR campaigns with increased visibility.
In the realm of crypto projects, the role of a crypto press release distribution service becomes pivotal. These services act as linchpins in ensuring that your press releases not only reach relevant news outlets and influencers but also contribute to heightened brand recognition and credibility, ultimately driving increased traffic and sales.
Criteria for selecting the right crypto press release distribution service:
Targeted distribution:
While the network and reach of a crypto press release distribution service remain crucial criteria, additional considerations can refine the selection process. Firstly, the ability of the service to provide targeted distribution is essential. A quality service should not only have broad access to journalists and media outlets but also demonstrate a capability to tailor distribution to match the specific audience and demographics relevant to your crypto project.
Compatibility with diverse media formats:
Another important criterion is the service's adaptability to various media formats. A good press release distribution service should accommodate different content types, including multimedia elements like images, videos, or infographics, maximizing the engagement potential of your press release and catering to diverse audience preferences.
Speed of distribution:
Furthermore, the timeliness and efficiency of the distribution service are paramount. The speed at which your press release reaches the intended audience can significantly impact its effectiveness. Choose a service that demonstrates a track record of timely delivery, ensuring that your message aligns with current market dynamics and trends.
Integration with social media:
Integration with social media platforms is another valuable consideration. A press release distribution service that seamlessly integrates with popular social media channels can amplify the reach of your message, leveraging the power of online communities and influencers.
Track record:
In Addition, a top crypto press release distribution service should have an established track record and excellent reputation within their industry, providing detailed reports and analytics on your press release performance so you can measure its success, helping you determine ROI of investments made.
Pricing and packages:
Considerations when selecting a crypto press release distributor should also include pricing and packages offered. Services offer various crypto PR packages, which can be purchased either individually or as an annual subscription plan. When considering your options, ensure they offer packages that fit within your business budget.
Robust customer support:
Lastly, customer support and communication channels should not be overlooked. A reputable service should provide excellent customer support, offering clear communication channels to address any concerns or inquiries promptly. This ensures a smooth and efficient collaboration, enhancing the overall experience of disseminating your crypto project's press releases.
When delving into the world of crypto projects, the role of a press release distribution service becomes even more critical. While network and reach are foundational criteria for selecting the right service, our exploration has unveiled additional considerations that can refine your decision-making process.
As you navigate the diverse landscape of press release distribution services, it's essential to weigh these criteria against your project's specific goals and needs. Finding a service that aligns seamlessly with your objectives will not only boost visibility and credibility but will also contribute significantly to the overall success of your brand or crypto venture in an ever-evolving business ecosystem.
To assist you in this journey, consider exploring the top performers in the crypto press distribution realm:
1. BTCWire: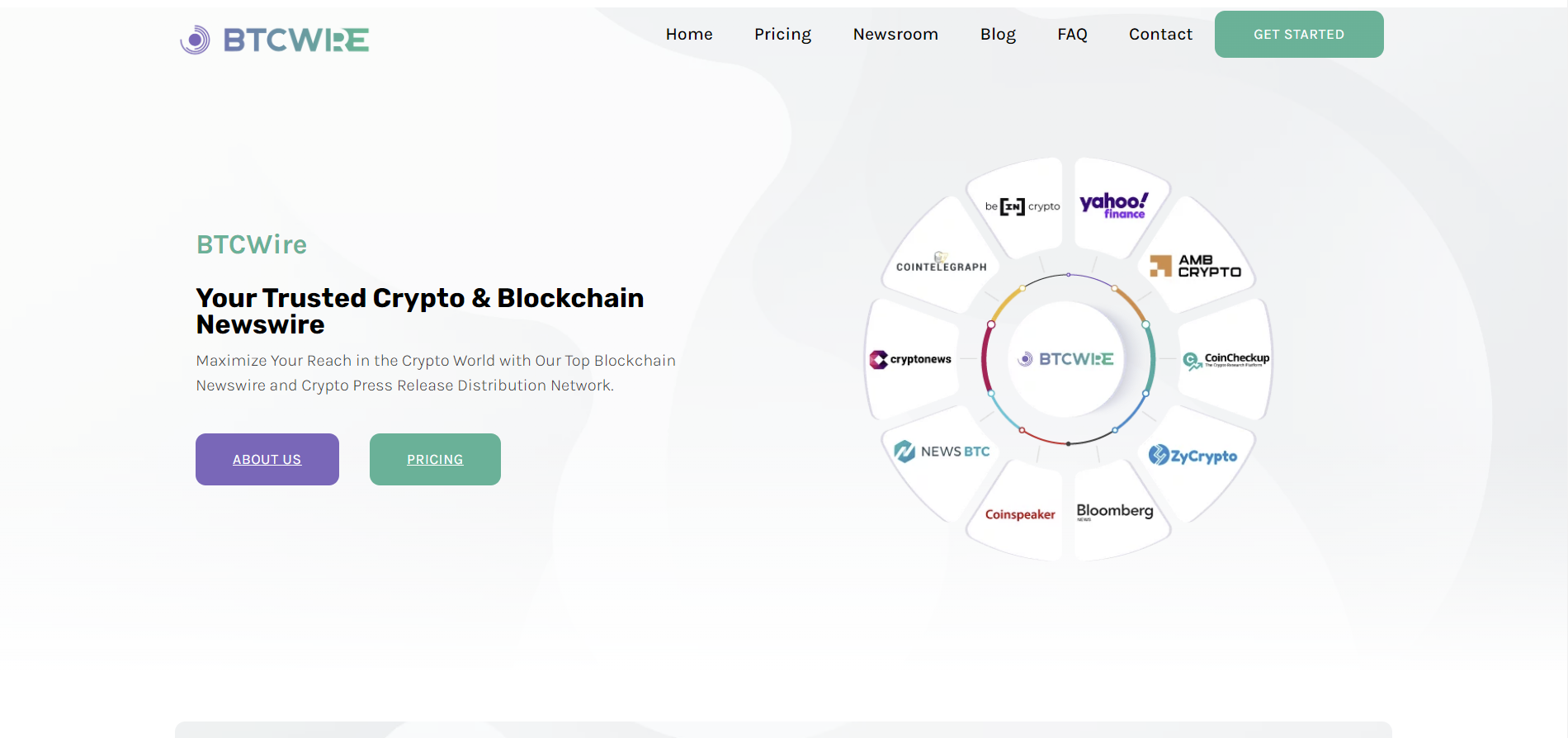 BTCWire stands out as a specialized press release distribution service, offering personalized and guaranteed publication for businesses in the blockchain and crypto space. Its adaptable crypto press release packages empower clients to choose services that align precisely with their needs and budget—leveraging a robust distribution network.
Choosing BTCWire's services equips blockchain companies to boost visibility, credibility, and effectively target their desired audience using their multiple press release packages. Backed by industry insights and a wide crypto network, BTCWire stands as the preferred choice for businesses aiming to establish a robust presence in the dynamic blockchain landscape.
2. Blockchain Wire: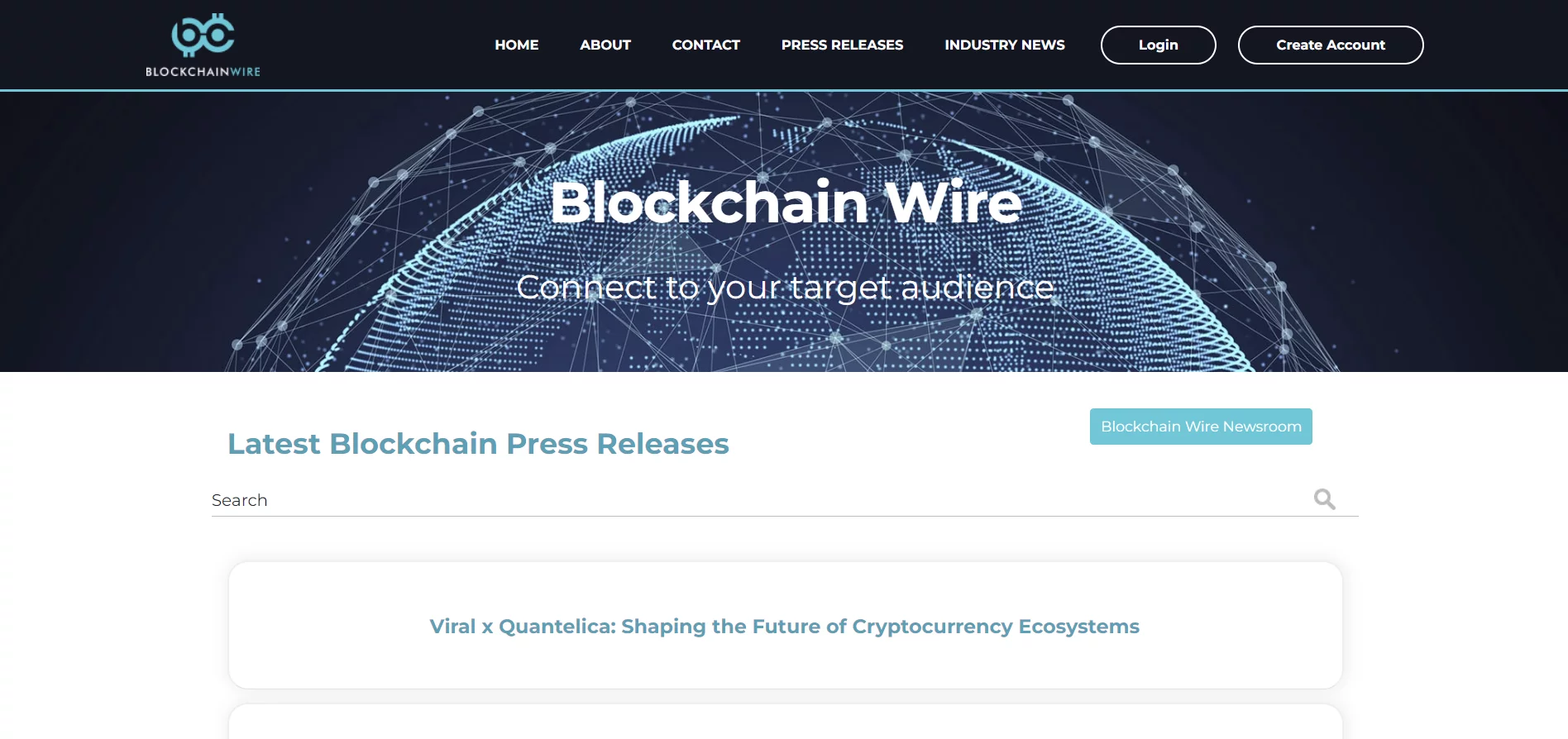 Blockchain Wire is an industry pioneer, focusing exclusively on press release distribution services tailored to blockchain and crypto projects. With a global reach spanning broadcast and online media outlets, social media platforms, trade publications, and leading blogs, Blockchain Wire ensures comprehensive exposure for crypto projects to get the visibility they need to thrive in this space.
The service's commitment to excellence is evident through its global distribution network, specialized tools for audience targeting, and its status as an industry premier press release distribution service dedicated exclusively to blockchain and crypto news.
3. Coinscribble: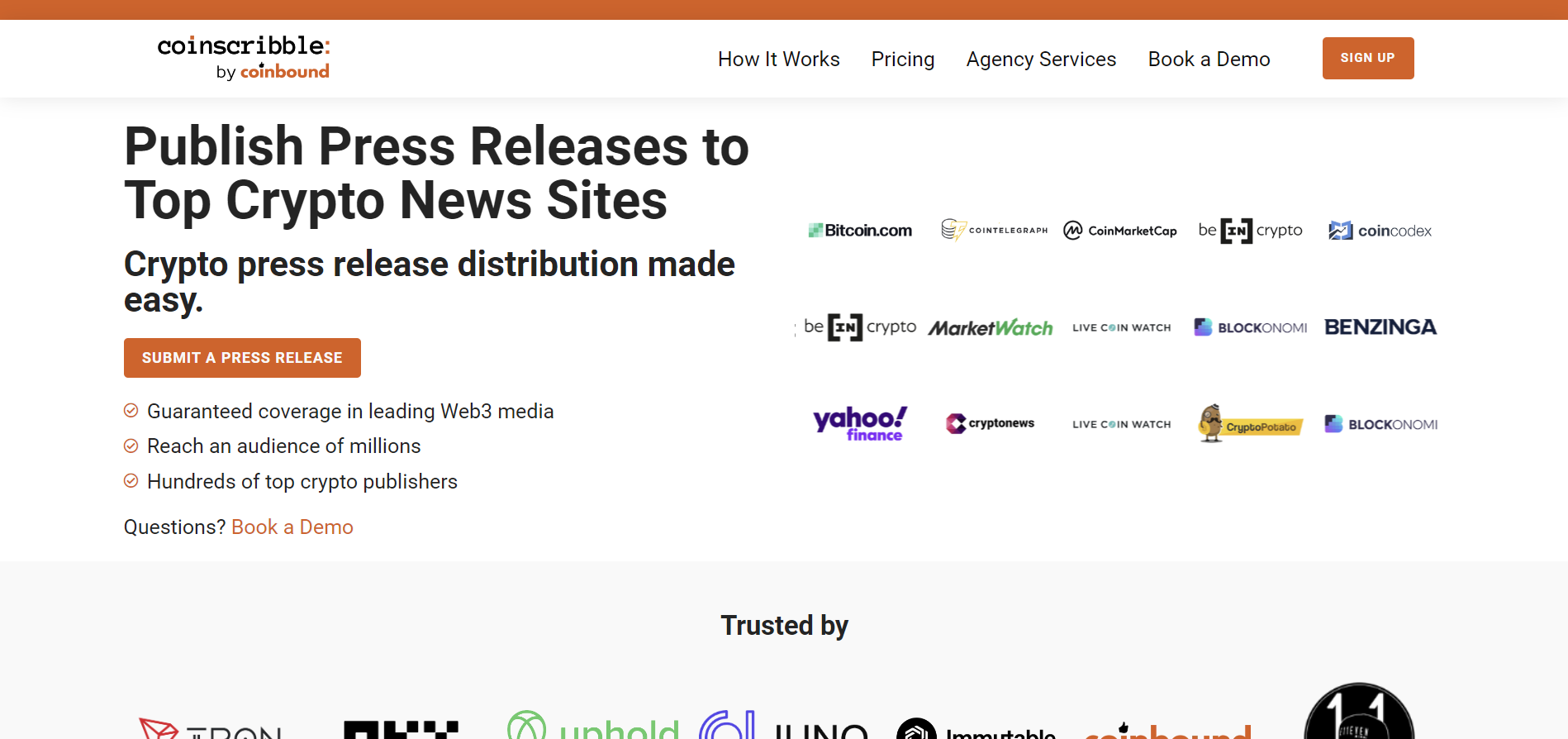 Coinscribble is another premier crypto press release distribution service, providing crypto companies with assured coverage across numerous blockchain news sites swiftly and effortlessly. They offer publications on various ton tier crypto news sites. Coinscribble combines focused distribution, user-friendly processes, and a dedicated client services team
With various packages available, delivery times vary based on the selected package. Even with the most economical option, you can expect publication within 72 hours, while the top-tier package ensures delivery in under 24 hours, emphasizing Coinscribble's commitment to prompt and effective results.
Conclusion:
In conclusion, the role of a press release distribution service in the realm of crypto projects is undeniably pivotal. As we've explored various criteria for selecting the right service, it becomes clear that while network and reach are foundational, additional considerations can refine your decision-making process.
BTCWire, Business Wire, and Coinscribble consistently emerge as the top 3 choices, each offering unique features and advantages. These reputable services have proven track records, providing comprehensive distribution, reaching influential media outlets, and delivering results that align with the dynamic demands of the crypto and blockchain landscape.
As you embark on leveraging the power of press releases for your crypto project, remember that success is not just about choosing the right service but also about crafting compelling and impactful content. Combine the strengths of a top-notch distribution service with a well-crafted narrative to ensure that your message resonates with your target audience. Stay informed about industry trends, remain agile, and adapt your strategies to the evolving landscape.
The journey of promoting your crypto project through press releases is a dynamic one, and by staying attuned to the pulse of the market, you'll position your venture for sustained growth and recognition in the exciting world of blockchain and cryptocurrency.